bulk storage
Coal and Pet-coke
The largest fuel stockpiles can now be covered.
More than a third of the world's energy is produced from solid fuel. Coal and pet-coke are stored in huge stockpiles near plants that consume them. These piles used to be open-air, but current environmental consciousness demands that they are covered. As an example, above are Enel's Bocamina coal yards in Chile. Over 300,000t of fuel were previously stored in the open. Now, two Freedomes cover all that fuel and 46,000m2.
Combustibility makes coal storage a special case that deserves careful treatment.
The National Fire Protection Association (standards NFPA 120 and 850) identifies the hazards associated with storage and handling of coal, and gives the following recommendations for protection and safety.
Storage structures are made of non-combustible materials

The surface area upon which dust can settle is minimized or, even more desirable, cladding is installed underneath a building's structural elements

Coal should be kept as dry as possible (sprinklers are not recommended)

A sufficient ventilation system should be provided to reduce the chance of methane (and, in case of fire, smoke) build-up and for explosion venting requirements. Ventilation should be provided at the apex to take advantage of the chimney effect.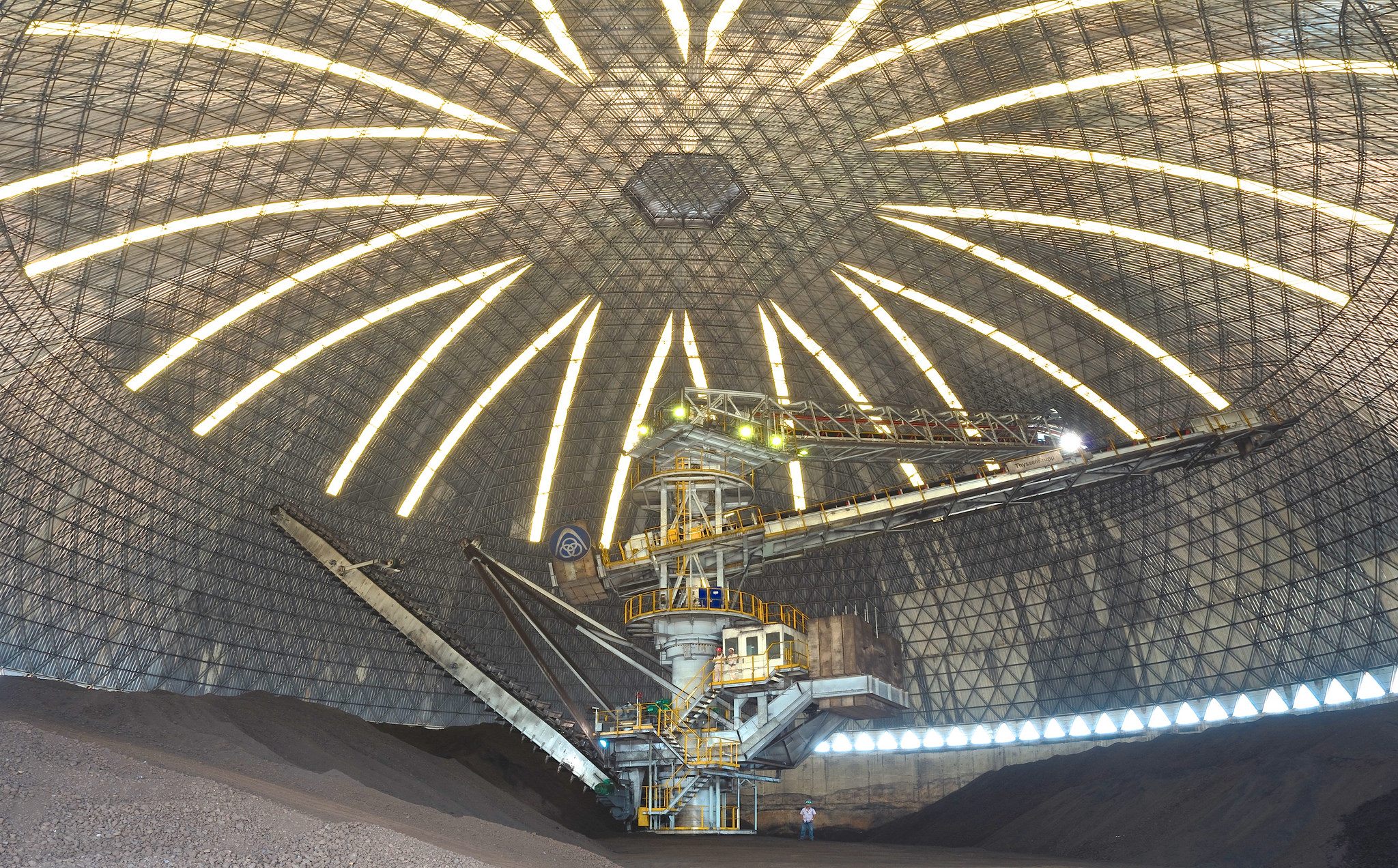 Coal storage meets environmental responsibility.
Pupuk-Kaltim's coal-boiler project produces the steam required to help the company deliver its annual 3 million tons of urea to its customers in Indonesia and beyond. As Indonesia's largest fertilizer producer, Pupuk-Kaltim has won numerous awards for its green practices and outstanding engineering. And the shiny Geometrica dome at Bontang keeps the coal, and the company's track record, spotless.
Geometrica coal storage domes protect the environment around the world.